KOMM-Bildungsbereich
KOMM-Bildungsbereich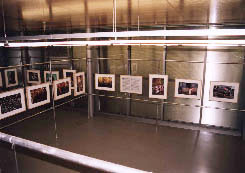 Komm-Bildungsbereich (poorly rendered as "department of education") is an independent group that is open to everyone interested in culture and exhibitions. It is the place for any aesthetic, enlightening, enthusiastic or just relevant exhibition and/or discussion. Bildungsbereich right at its start was the first exhibition group to concentrate on the issue of the "New Media" in 1985 ("Medientage"). Ever since Bildungsbereich has endeavoured to open new insights to adolescents and adults from unconventional angles by cross-border or comprehensive projects, (e.g. art & historical documentation) or by multi-media and associative exhibition concepts.
Exhibitions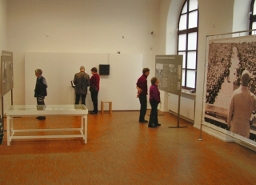 ... certainly are the core of our work. We take up issues that are ignored or neglected or simply don't find a place in Nuremberg. Exhibitions are not limited to art as (too) many people in Nuremberg think. Yet exhibitions can be made out of whatever might be of interest to the exhibitants or to the possible audience. Bildungsbereich has been open for any relevant exhibition — in the areas of photography, satire/cartoons, history & social (minority) documentations, multi-media installations, and classical & avant-garde arts. Our topics range from A for AIDS to C for New Frankfurt School of Satire Cartoons to N for Nazi architecture to T for Third World poverty and to W for Wehrmacht crimes in World War II (cf. exhibition archive). Bildungsbereich exhibitions are designed and fashioned by the group, often with the support of friends and local experts. We do put emphasis on the unity of topical matter and presentation form — without loss of substance. And our own handwriting should be clearly visible.
Culture & education events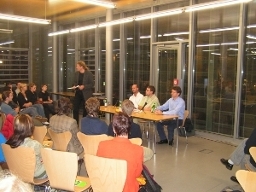 ... in the shape of seminars, lectures, panel discussions or a set of films on the one hand frame our exhibition activities; on the other hand we stage them independently to raise issues that are not or (to our esteem) not adequately dealt with. Topics here again range from A for anti-semitism to Z for "Zukunft der Arbeit" ("The Future of Labour").
Honorary and voluntary commitment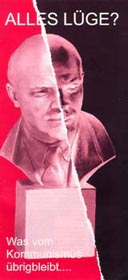 ... has been the fundamental idea of "Soziokultur" i.e. social & cultural engagement on a local scale since the 1970s. We conceive culture not as something that is simply & easily consumed (as readily propagated by the "event"-ridden mass media) but as work in progress that depends on people willing to participate actively in the making of or the public reception of cultural action or even in tackling social issues. This idea of "culture" goes back to Joseph Beuys ("Everyone is an artist") as well as to Hermann Glaser ("Culture for and by everybody") and Hilmar Hoffmann ("Civil Right of Culture"). Despite the low access level of this culture concept we do not promote amateurishness; we would rather like to encourage the creativity of all sorts of people towards a demanding aesthetic and political commitment.